A state champ will be crowned, dreams will be accomplished, and history will be made.  This is Indiana and this is 6A football:  the cornfields of doom.
Playoffs are just around the corner and the biggest games in the state are all on tap in the biggest class in  Indiana starting October 27.  Here you will find predictions for every matchup and then a hypothetical prediction bracket.  Let's jump into it.  
SECTIONAL 2:
CARROLL @ WARSAW
Carroll drew the road matchup vs Warsaw which is a familiar matchup for the Chargers as they have played them the past three years in Sectionals and beaten them all three times.  I have no reason to believe that will change as long as the defense can stop the option and Jimmy Sulivan is on his A game.  Give me the Chargers by 18.
Elkhart @ Penn
Elkhart has a hard first game against a tough Penn team looking for revenge after getting knocked out in the first round last year by Carroll.  I'll take Penn by 24
Sectional 2 Championship 
 Penn @ Carroll
 A Rematch from last year's sectional semifinal game, where the Chargers ran Penn out of their own stadium 35-7.  This game will be closer but home-field advantage will play a factor. Give me the Chargers by 10.
Sectional 1:
Portage @ Lake Central
This is one of the games that could go either way, LC took the first matchup this year by a point 21-20 so my prediction is Lake Central by 3.
Lafayette Jefferson  @ Crown Point 
This one probably won't be a close game even though Jefferson shocked everyone and won last year. This year's Crown Point team will win by 14.
Sectional 1 Championship 
Lake Central @ Crown Point 
Jefferson is better than Lake Central and LC got steamrolled early this season.  Give me Crown Point by 22.
SECTIONAL 3:
Fishers @ Homestead
This one may get ugly for the Spartans as they have been horribly inconsistent this season.  This Fisher's team gave HSE a run for their money and has had a solid season.  Give me Fishers by 17.  
HSE @ Northrop
I honestly feel bad for Northrop here, Winless and playing one of the Best teams in the state… ouch.  HSE by 45. 
Sectional 3 Championship 
Fishers @ HSE, County rivalry renewed again
 This will be one of the best Championship games of the entire state with these two powerhouses in Indy.  The defense may be a thing of imagination as oftentimes when these two play each other the defenses don't get off the bus.  Fishers by 1
SECTIONAL 4:
Westfield @ Carmel
The Shamrocks are 8-1 this year and the Greyhounds are a solid 5-3, that being said Westfield is the better team and they will win by 14
Noblesville @ Zionsvile
 These two are both in the lower chunk of HCC but the Millers are a more complete team.  Noblesville by 8.
Sectional 4 Championship
Westfield @ Noblesville 
The Shamrocks are looking to make it back to Lucas Oil from 2021 and this is a good start. Shamrocks by 3.
SECTIONAL 5:
Brownsburg @ Ben Davis
 Man, what a game this should be!  The 1 vs 2 in the first round of the playoffs, you just wish that it was a later matchup.  This game will be a great one to watch and whoever has the ball last will win.  Give me Ben Davis by 1.
Avon @ Pike 
Eh, this game is going to be a snooze fest neither Pike nor Avon are any good.  I'll take Pike by 7
Sectional 5 Championship
Ben Davis @ Pike
The running clock starts at 35 and this game should run the entire second half.  Ben Davis by 49
SECTIONAL 6:
North Central @ Cathedral
This one is fairly easy, Semi-state runner-up from last year Catherdral will handle North Central by 35
Lawrence Central @ Lawrence North
Lawrence North bested Central earlier this year in Lucas Oil and that will not change Friday.  LN by 17.
Sectional 6 Championship
Lawrence North @ Cathedral 
 This one will be close but Cathedral by 7
SECTIONAL 7:
Perry Meridian @ Warren Central
 This whole sectional isn't very good but Warren is the clear favorite with the stout D-line they boast.   The defense is good but the Warriors struggle to score points.  Warren Central by 15
Southport @ Arsenal tech
Both teams struggle to score and win games it will be a race to 7 points on Friday.  Southport by 7.
Sectional 7 Championship
Warren Central @ Southport 
Warren will run away with it with a running clock.  Warren Central by 35
SECTIONAL 8:
Franklin Central  @ Center Grove
 Center Grove is the three-time defending state champ.  Franklin Central is decent but no one is stopping Center Grove before Semi State.  CG by 42
Jeffersonville @ Columbus North
A 2-hour bus ride is brutal, add that to a 0-9 record, and that leads to trouble.  Columbus North by 15
Sectional 8 Championship
Center Grove @ Columbus North
Well, this one is fairly obvious.  CG by 22
That concludes the Sectionals.  Here is what my bracket looks like now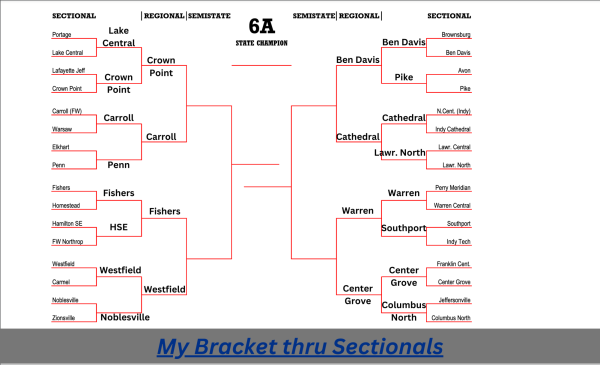 Regionals:
Crown Point vs Carroll
 I think the Chargers will still have some bark in them at this point and if the game is at home then Carroll will defend the home turf yet again.  Chargers by 3
Westfield vs Fishers
A good game this could be if we see it.  The 'Rocks won by 14 last time and I think they escape by 3 this time
Ben Davis vs Cathedral 
This has the potential to be a good game.  The Giants from Ben Davis have not lost to an Indiana team yet and won't change here either.  BD by 7
Warren Central vs Center Grove
Yeah, Warren Central is big but has no offense.  Center Grove by 20
That is all she wrote for the regionals on Semi-State Here is what my bracket looks like now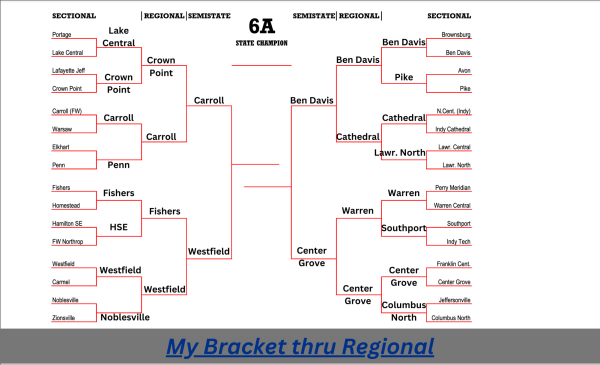 Semi-States:
Carroll vs Westfield 
 This is where the road ends for the Chargers making it back to the Semi-State game for the second year in a row but Westfield is looking for redemption and is ready to prove it.  Shamrocks by 5
Ben Davis vs Center Grove 
This is the first matchup that Center Grove could fall in.  If the Giants have the ball last I think they come out with a W.  But I think Center Grove is too good to let that happen.  Center Grove by 3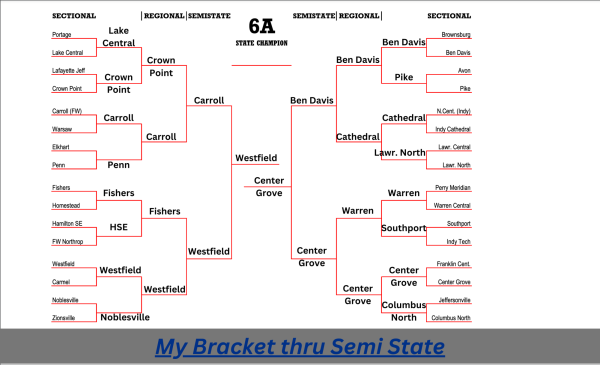 Onto the title game
Westfield vs Center Grove 
As much as it pains me Center Grove will win a fourth straight title.  They only got better from last year and have just as much talent.  Center Grove by 12
Boom and just like that there is your State Champ for the 4th straight year.