Five nights ago (plus a bonus night) the "Five Nights at Freddy's" movie was released to what can only be considered a commercial success earning over 130 million dollars in its first weekend. The titular series has spent the past 8 years captivating the spirits of fans through games, books, merchandise, and music. Now it finally got its chance on the big screen. So how did it do?
Plot 
A down on his luck Michael Schmidt has lost his job and is fresh out of options. He is about to lose custody of his younger sister Abby and as a last-ditch effort takes a seemingly easy night security job at Freddy Fazbear's Pizza Place (a Chuck E. Cheese-esque establishment). Mike is haunted by visions of his kidnapped brother every night and aims to solve what happened to him through his dreams. Chaos ensues when the animatronics at the restaurant come to life.
The score, for the most part, wasn't notable. It matched the lighthearted comedic tone, with a joyous song or two playing for the animatronics to dance along to. Surprisingly, there was not a hint of the iconic music box melody from the games, which was a disappointment. While the majority of the score wasn't memorable, the opening credits song/opening video sequence in the pixelated style of the original games was a clear highlight of the movie. All of this mediocrity was forgiven by the end credits song: Five Nights at Freddy's by The Living Tombstone, which is a very famous FNAF fan song. Hearing the first few notes of this along with the audience's applause was truly a once-in-a-lifetime experience. 
Cast 
Pretty solid overall, with Piper Rubio (Abby Schmidt) being the standout performer. Casting huge actors known for iconic roles such as Josh Hutcherson (Mike Schmidt) and Elizabeth Lail (Vanessa Monroe) was somewhat of a risky move as the characters can sometimes fall flat due to the audience's recognition of their previous roles. However, in this case, casting these actors was a very smart decision and propelled the movie forward through quality acting. Even the former Shaggy actor, Matthew Lillard, managed to cause us to briefly forget his previous silly role through his more serious performance as the phone guy. 
The youth acting in this film was exceptional. The five ghost kids were very enjoyable to watch and truly brought emotion to the movie.
YouTuber Cameos (SPOILER WARNING)
To our surprise, the illustrious Matthew Patrick (A.K.A. MatPat, Game Theory, Film Theory, Fashion Theory, Food Theory, and GTLive) showed up on the big screen. The official Game Theory FNAF playlist holds 65 theory videos; it's no surprise that fans longed to see him in the movie. During his reactions to the trailers, he lied that he wasn't in it, so when he showed up as a waiter, pure adrenaline was running through our veins. We were left utterly flabbergasted by this and the inclusion of his famous line, "It's just a theory."
CoryxKenshin, who had popular playthroughs of the FNAF games, also played the role of a disgruntled taxi driver. He has made FNAF videos just as long as MatPat has, and most of them have millions of views. Though we weren't familiar with his work, his character was still entertaining and a welcome addition. Finally, there were a few YouTuber cameos on the Employee of the Month board, which people quickly noticed. They were Razzbowski, Bazamalam, FusionZGamer, Dawko, and 8-Bit Ryan.
Main Characters
Michael Schmidt (Mike) was a fairly basic protagonist. He is snarky and sarcastic throughout and makes some questionable decisions as expected from any horror character. He is very clearly irresponsible and frequently a mean-spirited person to people who seek only to help him. As a character, he is justified because he has the trauma of his brother being kidnapped, which is often a plot device. 
Vanessa, overall, was a very confusing character. She's a police officer, but she spends so much of her time at Freddy's helping Mike out. Everything Vanessa does contradicts itself as she has no clear motive for any action and wavers between being on the protagonist's side and the antagonist's side which is very confusing to watch. She also litters by throwing Mike's prescribed sleeping medication into the river for some reason (this is never explained).
We loved Mike's sister, Abby. It's easy for child characters in movies to be annoying, but she knocked it out of the park. Her comedic lines garnered a good amount of laughs from the audience. She was delightful the whole time, all while moving the plot forward. 
Special Effects (Animatronics)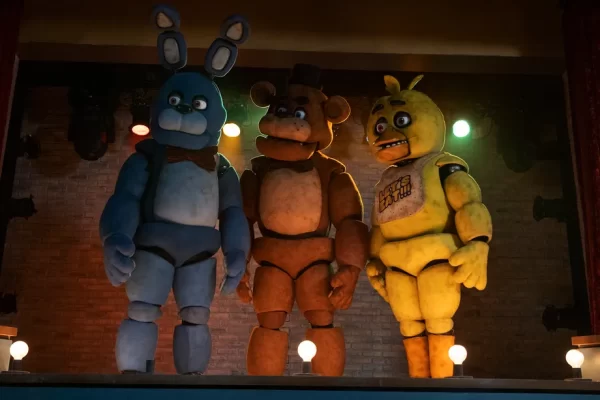 Blumhouse Productions, the studio that produced the movie, is known for their hit horror films such as "The Purge", "The Invisible Man", "Happy Death Day", and "M3GAN". The special effects in these movies do not fall flat, this is consistent with the special effects in "Five Nights at Freddy's". The animatronics themselves are incredibly well made and throughout the movie are seen moving freely while relying on remote controls. The animatronics have visible metal joints in their arms and legs which is revolutionary as it proves the amount of effort and work that went into making the animatronics fully mobile. While actor suits are used at some points during the movie, the majority of the time the animatronics are seen when they are being remotely controlled. The special effects in this movie are very impressive and mark the beginning of a new era of remote-control technology present in TV and film.
Set Design
The set design of this movie was beautifully done. The interior of Freddy Fazbear's Pizza Place captures the retro pizzeria theme perfectly, with its colorful lights and arcade machines. When the lights are off, though, the place has a more sinister feeling to it, as it feels abandoned and worn down. Mike's security job office is fittingly creepy and had the same "Celebrate!" poster from the games, which was a nice touch. Overall, the set design brought the setting to life in a wonderful way.
General Criticism 
Unfortunately, we do have to mention the downsides of the film. The biggest of which is the fear factor. If you were looking for a bone-chilling holiday horror flick, you are better off seeing something else. This movie is not scary, and assertively so. This film prefers to focus far more on comedic aspects, which disappointed many fans when compared to the horror-centric marketing. Beyond this it saves a lot of time by not thoroughly explaining some concepts from the games, leaving some less aware of the franchise confused. Clarity is a general issue at some points in this film, like how they don't properly address the Freddy vs. Golden Freddy difference. The last sin worth mentioning is loose ends: this film has a lot. This could likely be due to the hour of run time cut near the end of production, or maybe the writers just forgot, but many things that needed to be addressed just weren't. 
Conclusion 
All in all, this movie was a love letter to the fans. For a game series whose lore was essentially built from its fanbase, the use of tasteful YouTuber cameos and the credits song felt like appropriate acts of appreciation. For fans of the series, it is well worth seeing. However, if you aren't a fan, this movie might not be for you. Overall, while it is no "Citizen Kane" we give it a solid 4.3/5 nights for sheer fun factor and fan service.