Reporting Remains Essential to Students, Faculty
The Importance of Journalism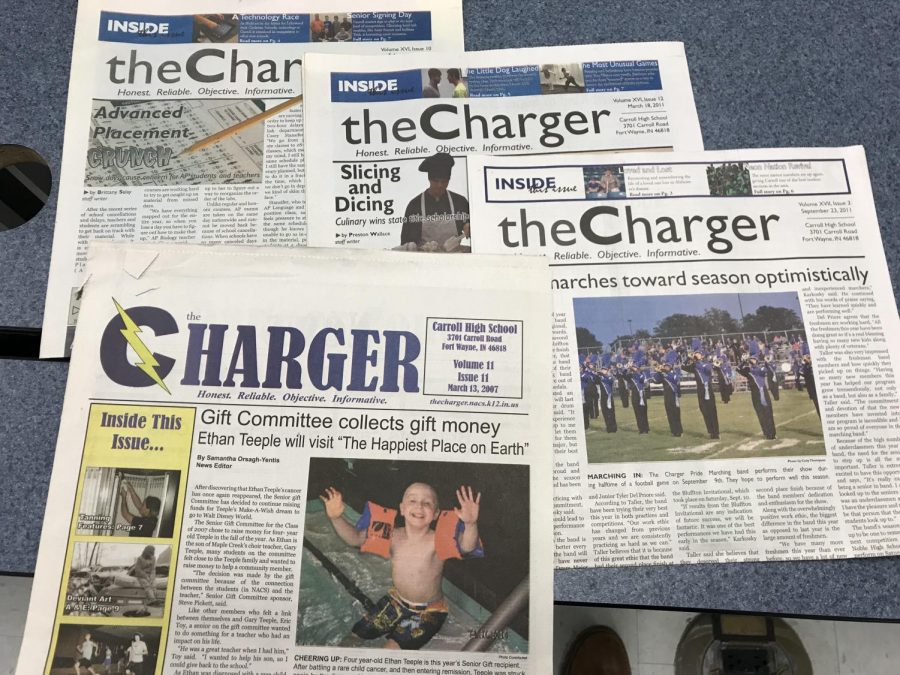 In 2016, the Charger (Carroll High School Newspaper) died.
Many people do not understand the importance of journalism in schools as well as outside the school grounds. Journalism has been under fire from many different sides with attacks from the left and the right.
On January 20, a Michigan man was arrested for threatening to murder journalists at CNN.
 Between 2011 and 2015, the number of full-time daily journalists has dropped from 41,600 to only 32,900. That is nearly 10,000 fewer journalists in only a span of about five years. Without journalism, it will create difficulty to find out daily happenings as well as decrease the ability to understand all sides of a story.
  Radio and television teacher Bob Johnston has quite a history with journalism. Mr. Johnston graduated from Huntington College with a journalism and communications degree where he worked with the campus television station. He then worked at WPTA-Channel 21 news as an editor, photographer and reporter. He is now in year six of teaching journalism in high school here at Carroll.
  "I believe that I'm a journalist at heart," Mr. Johnston said.
   Mr. Johnston clearly believes that journalism is important, but not completely based off of his interest in the subject. Mr. Johnston believes journalism gives people the ability to see multiple sides of a situation and minimize bias.
  "Journalism has helped me believe that my point of view is not the only point of view out there," Mr. Johnston said, "There is always my truth, your truth, and the actual truth."
  Objectivity is learned through journalism when following Mr. Johnston's impressive motto. One point of journalism is to understand all sides of the story which is something people can rarely do in social interactions. Journalism creates a realization for people that everyone has their own truth to every story which can create a more respectful and mature personality.
  "I really believe understanding journalism helps people stray from bias," Mr. Johnston said, "Since I understand journalism it has made me understand that just because someone doesn't agree with me, doesn't mean that everyone doesn't agree with me is wrong."
  Bias is everywhere and is nearly impossible to get rid of, but bias does not necessarily always have to be a bad thing in journalism. Bias can certainly bring people's attention to bigger topics through persuasion. This also means that people can pitch their ideas to a local journalist for them to persuade the media through writing.  
  English Teacher Bob Ahlersmeyer also has experience with journalism. At Indiana University, Mr. Ahlersmeyer got a degree in broadcast journalism then moved back to Fort Wayne where he became the Newspaper teacher at Carroll High School. Mr. Ahlersmeyer also believes that journalism and bias seem to connect, but still believes the knowledge of journalism is for the greater good.
  "Well I think that journalism and bias go hand in hand," Mr. Ahlersmeyer said, "Journalism does help people understand there is two sides and not just the part that is spoon fed to you."
  Besides the knowledge journalism gives when it is understood, it is also the basic way of understanding what is happening in the world on a day to day basis. CNN, Fox News, ESPN, and many other entertainment networks are all news sources. If journalism dies, so does the entertainment factor as well as the way to get basic news information.
  "I think one of the hallmarks of journalism is the responsibility that a journalist has to educate the public," Mr. Ahlersmeyer said, "Without the journalism right of that, we wouldn't know what is going on in Washington."
  Not only does the news give the people entertainment, it also will inform us what is going on in government such as recent issues such as net neutrality and immigration.
  "Nationally, journalists keep an eye on the government and are able to keep them in check," Mr. Ahlersmeyer said.
  Back on the case of bias, people do not always want to believe everything they hear on the news. Each news program or paper has its own view on the way they show and perceive information. If someone does not prefer one news station or newspaper then they can always find one that focuses on their beliefs and perspectives.
  "There is Fox news which is heavily conservative and then you also have CNN which tends to be more liberal," Mr. Ahlersmeyer said.
  In Fort Wayne, two newspapers are available in the city which is more than expected in a city of this size. There is the Journal Gazette as well as the News Sentinel which both have differentiated views on politics.
  "Here in Fort Wayne we have two newspapers and for a city our size that is really unheard of," Mr. Ahlersmeyer said, "The Journal tends to be more liberal and democratic which is opposite of the News Sentinel."
  Even locally, here in Fort Wayne, there is variety for a person's view on a political subject covered in the area or even nationally.
  Journalism is a lot more work than people believe and people tend to snub journalists and not respect them the same way they would to another person. Journalists have to find a way to conduct interviews, retain only the facts, and write an entire news article sometimes in just a day. For doing this all to inform the media for their knowledge and well-being, journalists are paid a very low salary. According to PayScale, the median annual salary nationally for a journalist is only 39,348 dollars.
  Before the newspaper died at Carroll, Natalie Brown, sophomore at Saint Francis University, was the co-editor in chief for the Charger online with Isabelle Beezley, sophomore at IPFW. Natalie decided not to follow a career in journalism after high school unlike Beezley.
  "I was headed for a career in journalism for a long time," Brown said, "I thought about it and thought about it and realized there was almost no money I could make with that."
  Journalism tends to be dying off slowly because of the lack of people wanting to be journalists. The money is a huge factor in people wanting another job. Even if someone has a huge passion for journalism like Natalie, they might not choose that as a career path because of the lack of money.
  "I love to write," Brown said, "I had to be a little bit realistic because I eventually want a family and want to be well off and I didn't think writing for the Journal Gazette would get me there."
  Although Brown does not want to pursue a career in journalism, she still loves to write and supports journalism as a whole.
  "I defiantly appreciate journalism now," Brown said, "Taking the class helped me get a whole new understanding of the idea."
  Unlike Brown, Beezley is deciding to follow her dream and find herself involved with journalism in the future. Natalie and Isabelle actually joined the newspaper together during their freshmen year after taking a journalism class taught by Mr. Abbott. By junior year, they were both promoted to co-editor-in-chief but the class was now taught by Mr. Johnston and English Teacher Carrie Wisehart. The school newspaper became a "converged newsroom" style in which it was more important to get multiple graphics along with the article which Natalie did not like.
  "The newspaper became all about getting a picture or video clip with every article," Brown said, "I love to write, but I'm not the type to carry a video camera on my shoulder all day."
  This represents an example of old fashioned journalism dying as well. With the growth of online and televised news, the "old souls" such as Brown don't find reason to continue writing because of their personal beliefs. With the way things are going, paper newspaper will be gone sooner than later and television and internet will be the only access of the news.
  "My perception of journalism should be the newspaper, but I always picture my grandpa on the couch watching 60 minutes," Brown said.
  After junior year, Brown decided to opt out of her journalism career by leaving the Charger Online to try to focus on another career path. Beezley stayed for her senior year and became the lone editor-in-chief on the small seven person writing staff.
  Like Mr. Johnston, Beezley also believes she is a journalist at heart and from a very young age. Before joining the school newspaper, Isabelle would write short articles over local happenings and Komet games at as young as ten years old. Obviously, these articles didn't go far, but they did spark Isabelle's dream to write. As of now, Isabelle is attending IPFW where she is studying communications until she can transfer to Ball State to get a Bachelor's degree in journalism.
  "All I know about the future is that I want to be a journalist," Beezley said, "Journalists keep us informed, and information is power in our society."
  People who have driving passion for writing and are determined to become journalists because they believe it is right. Not enough people realize the amount of power and strength journalism and writing have over society and the amount of difference people can make by writing. When an article is well written with all the facts and enough interviews, it could completely change the original opinion of the reader or strengthen the reader's original opinion.
  "Bad journalism is everywhere," Beezley said, "But it's good to know that powerful unbiased journalism is still out there."
  Isabelle also decided to tackle the popular topics of bias and keeping the government and businesses in check. Journalism is a very powerful source if done correctly and could almost if be called if not already be called an art form.
  "Journalists are the only thing connecting us to the world outside our homes," Beezley said, "Many people believe journalism is dry or uninteresting, but it is so important to modern society."
  Isabelle realized she wants to pursue journalism not only because of her passion for the subject, but also to be heard and make an impact on society.
  "I need to be a journalist because it's a strong role in modern society," Beezley said. "It helps keep governments and businesses accountable and my word needs to be heard."
  As Isabelle tries her hardest to keep journalism alive outside of Carroll, the current newspaper staff fight to keep journalism alive at the school. To keep journalism alive the articles on the charger online need to be read and acknowledged by fellow Carroll students.
Although a school newspaper doesn't have much of a dent in society like the New York Times, it can bring school topics and controversies like the dress code policy alive. Now that journalism is alive for the moment, it is up to the millennials and the many generations to come to rebuild the journalism industry and keep it running.
About the Writer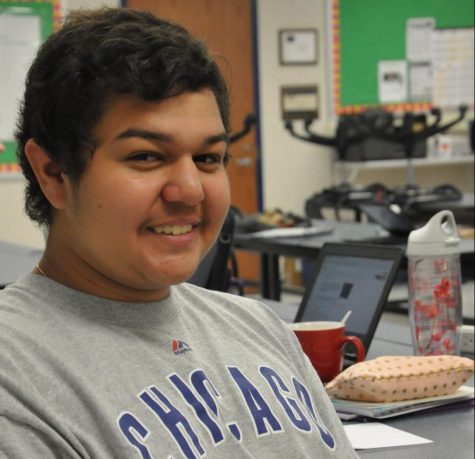 Luke Hanna, Former Editor in Chief
Luke Hanna is Co-Editor-in-Chief of the Charger Online for the 2017-18 school year and the only returning member from the previous iteration of the Charger...