Importance of Junior Varsity Sports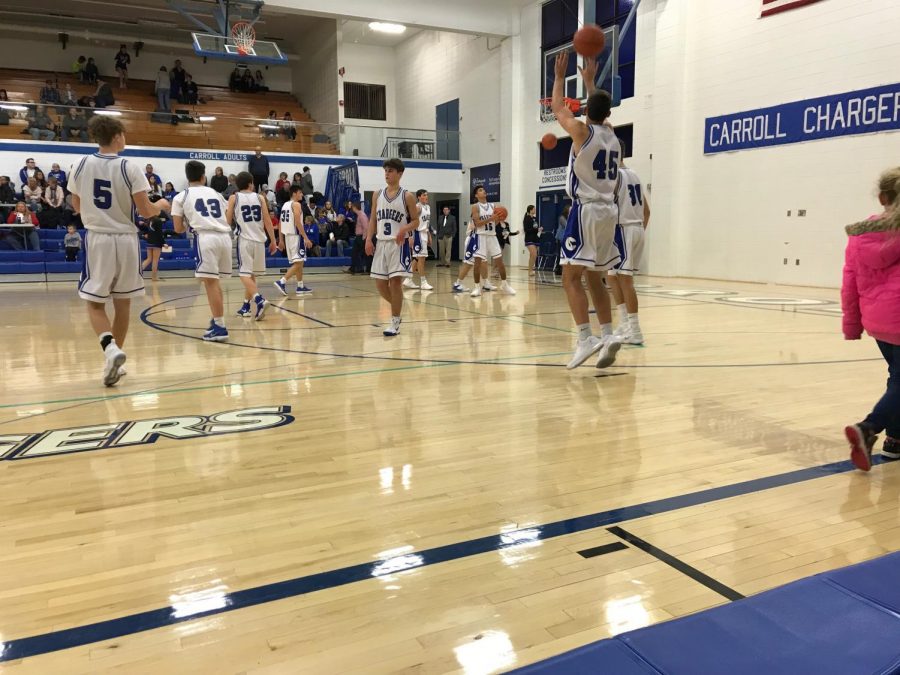 The family is getting ready. A high school student is about ready to pick up his girl. Everyone is looking forward to that big junior varsity football game on Monday night! Well, maybe that's not exactly true. Although junior varsity sport teams might not be as important as going to the local school's varsity sports games, they're still more important than one might think.
Junior varsity, no matter what sport, is very useful in the development of players to make sure they're ready for the big show. Not only do the lower class teams help develop players, but it's where players can spend their time if they don't want to ride the bench for much of the season on a varsity team.
Senior Payton Wallace has played football since an early age but he's never really been one of the "bigger guys" on the team. Wallace helped comment on how junior varsity was able to help him develop his game and give him more playing time than he would get on varsity.
"It really developed my game and it was almost like a simulation of what Friday nights would be like," Payton said, "I love it."
Even though Payton, the Carroll High School wide receiver, got more playing team with the junior varsity squad, he lived for those Friday nights with his boys.
"I loved being under those lights with my brothers," Payton said, "There was nothing better in the world."
One of Payton's brothers, Senior Reed Diller, got a little more play time than Payton did. Senior Reed Diller has been a starter on defense for the past two years where he was also a team captain his senior year. When playing junior varsity at an early grade like Reed, it's easier to become a leader and learn from the upperclassmen, but still not feel the pressure.
"Without junior varsity I couldn't have done it," Reed said, "It helps prepare you for everything that you're not expecting on Friday nights."
When on the field for junior varsity sports the pressure is off and it is more about having fun with the friends that the players made on the field. It's at those times that players use for personal reflection and focus on how to get better and overall, they want to achieve greatness.
"Obviously not too many people care about the local junior varsity football team," Reed said, "but that team was what made me into the leader I am today."
Reed has developed into a true leader for this team on defense not only through great coaching, but also through taking his time and developing his game. Without junior varsity football he would be put in with the players too big for him to make improvements and the school might not look at him like the great player that he is.
"If I started out varsity as a freshman I would've been crushed if I even saw any playing time," Reed said, "This junior varsity team gave me time to grow up before going head to head with the big guys.
One of the true leaders of the football team about three years ago, Coach Scott Snyder, also appreciates what JV football is able to do for students. Snyder coached under current head coach, Dog Dinan, for about five years before leaving to go coach at Carroll Middle School.
Snyder definitely realizes that not all of the students are going to be able to play for the varsity sports team right off the bat.
"With so many students at Carroll, not everyone is going to play heavy varsity minutes," Snyder said, "Junior varsity can almost be like a test for us coaches so we can see who's ready to play under the Friday night lights."
Snyder believes having lower level football squads helps players mature and develop more than they could at a higher level.
At Carroll High School, with how many students are in the school and no cuts to make the football team, more teams are needed for those players who just want to have fun. It gives people the ability to not stress over the whole school looking at you for dropping a pass or feeling depressed because you fumbled the football. It is purely for self-improvement in junior varsity and it is also for students to get out there and try something new.
Also at Carroll, the junior varsity football team has the ability to practice with the varsity team all as one. All the coaching that the varsity gets also is transferred over to the JV team in order to advance them so they're ready to be brought up to the varsity team.
"It's all one big team practice," Reed said, "We all get the same amount of coaching it just matters if you can put that effort onto the field."
Reed played junior varsity for two years at Carroll and he has become a superstar defensive player for Carroll High School.
"I would do anything my coaches would ask me to," Reed said, "I just want to be the best."
On the side of the field are some familiar faces as well. The upbeat cheer squad of Carroll also has a junior varsity and varsity squad. Senior Sedona Purdy cheered for junior varsity at Carroll freshman year and also varsity during her sophomore year. Like on the football team, the cheer team practices all together instead of in two separate groups.
"It really prepared me to cheer with the older girls and also got me ready for the coaches," Sedona said.
When Sedona was a freshman, the older girls on the team helped mentor the younger girls as they would have to take over the team in the years to come.
"It was a lot of help," Sedona said, "They helped me with all of my new stunts and taught me the way they were taught when they were freshmen."
Another very important reason for junior varsity, especially in cheer, is for the extreme stunts they take part in. With the many flips, hand springs, and too many things that everyone wishes they could do too.
"Some of the stunts you have to do on varsity cheer are so difficult," Sedona said, "It takes an extreme amount of skill."
Out of the fall and into the spring, baseball has similarities in junior varsity as well. Another senior, Austin Kresl, played on the freshmen team as well as junior varsity for two and a half years. About halfway through junior year, Austin finally worked on his game enough to be bumped up to varsity.
Austin had four specific reasons that junior varsity is an important aspect to high school athletics. Most seem to be common denominators through all of the high school athletes, but all are extremely relevant.
The first idea that Austin talked about was the junior varsity gives a person time. As stated before, Austin took as much time possible on his move up to varsity when he waited until half way through junior year.
"When an athlete takes time in sports they can mature better," Austin said, "I wouldn't want to play varsity if I was just going to sit on the bench."
The second idea that makes junior varsity important is the ability to develop skills through high school. Like most sports at Carroll, the junior varsity and varsity practice together for baseball as well. Being on junior varsity helps students build relationships with each other and also helps the kids get to know the coaches on a good level.
"When I first started playing baseball I was still getting to know people from Carroll Middle," Austin said, "As the years went on, the guys that I barely knew 3 years ago turned into some of my best friends."
The third piece to Austin's success in junior varsity is the little amount of pressure he felt when playing junior varsity. For two and a half years, Austin didn't have to worry about getting a good spot in sectionals or his brothers looking down on him on the team for missing a play. If this kind of thing happened to him on the junior varsity team, he would simply get back up on his feet and fix what he did wrong. Junior varsity is purely for self-reflection.
"When I look back on my baseball career here at Carroll I realized I made a lot of mistakes," Austin said, "Every time I was able to get back on my feet and try harder than the time before."
Lastly, Austin believes that all this time gives the upperclassmen time to be leaders to the lower classmen. As freshmen and sophomores, the baseball players are able to pick up on ways to lead a team through all four years of practicing together, playing together, and supporting each other. Even for the seniors that are not necessarily "leaders" of the team, they are still looked up to by the time they are seniors, especially at such a great athletic school.
"I don't consider myself too much of a leader of this team," Austin said, "but I have made some progress that I hope some of the younger ball players can look up to."
Even without being a leader, Austin stays positive about everything he's learned throughout his baseball career at Carroll.
"I may not be the best on team," Austin said, "But I love being out on that field."
Off the field and onto the course, Senior Meredyth Mee also enjoyed her time on junior varsity. Meredyth played JV golf for 2 years as she moved up to varsity junior year. Junior varsity is where most players first meet the players they are going to be playing with for the rest of high school and it builds extreme relationships.
"Junior Varsity golf is where I built so many relationships," Meredyth said, "It's where I met my family."
As a senior in high school going through a lot more than just focusing on golf, it is safe to say the Meredyth has felt a little bit of stress in her life. Sometimes as the stress builds, Meredyth isn't exactly able to put all of her effort into golf at some points, but she always has a back-up plan.
"I'm not going to lie, sometimes I get really stressed out in the fall," Meredyth said, "Junior varsity is important to me for the fact that if I have a bad week I can lean back on it and I don't have to worry about getting the best score possible."
All in all, those Friday night football games are always going to be the most entertaining event in town, or that sectional baseball game might be important to the school environment, but in the end junior varsity sports is what got all of those star players to the point they are at today.
About the Writer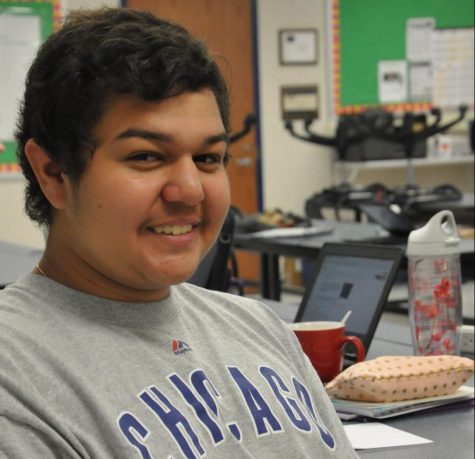 Luke Hanna, Former Editor in Chief
Luke Hanna is Co-Editor-in-Chief of the Charger Online for the 2017-18 school year and the only returning member from the previous iteration of the Charger...