Down the Drain: Updated Bathroom Reopened Sink Repaired
400+ gallons of water had leaked since August 27
UPDATE:
The sink in the boys bathroom, which had been running for over a month, has been under repair for the past two days. The sensor on the bathroom sink has been repaired. According to Custodial Campus Manager Jeff Warner, the bathroom was scheduled to be fixed on October 1. The bathroom was closed until after 10 a.m. when it reopened before 11 a.m. 
Since August 27, nearly 450 gallons of water per school day had run down the drain of a faulty sink in a second floor bathroom until repairs were started yesterday, October 1.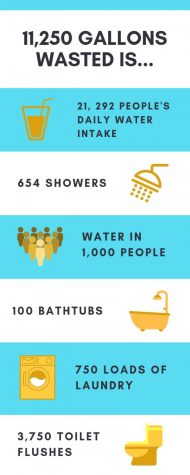 The men's bathroom across the library has had a running faucet almost constantly since the beginning of the year. The faucet, which is triggered by a malfunctioning sensor, has rarely shut off since the second week of school.
Mrs. Cheryl Ruselink, English teacher, whose classroom is next to the bathroom, notified the main office on August 27, according to an email obtained by the Charger Online.
The faucet has been running for a minimum of nine hours a day (about the length of a regular school day) every school day since the initial report. This works out to about 1 gallon every 72 seconds, 50 gallons per hour, 450 gallons a day or 11,250 gallons in the 24 school days since reported. The Charger Online is only able to vouch for school hours the faucet is running. 
Hypothetically, if the faucet runs during non school hours, it would use 1,200 gallons per day, 8,400 gallons per week and 39,600 gallons if it has run all day in the 33 days since August 27 — filling almost a years worth of bathtubs (360 tubs) in just over a month. 
The water rates of the Fort Wayne city utilities is $2.39 per 100 cubic feet. Since there would be about 1,503 cubic feet being used in the nine hours a school day since August 27, this means that the faucet in the bathroom has only cost the school at least $35.94.
While the money spent is not excessive, the amount of water is startling. According to our calculations, 11,250 gallons of water comes out to approximately 100 full bathtubs and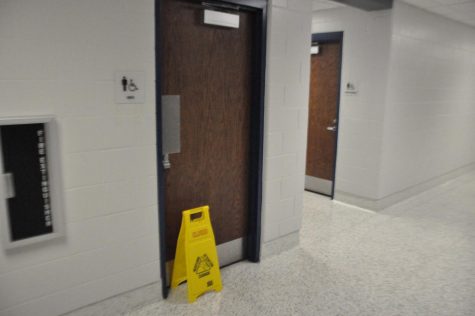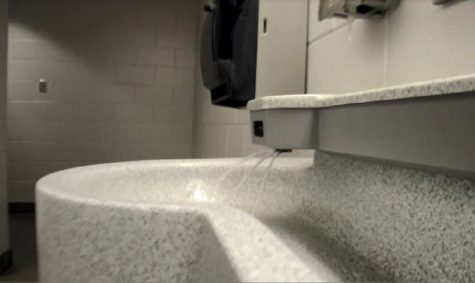 39,600 gallons of water is equivalent to more than a 22 feet-wide x 44 feet-long pool 5 feet deep.
Either way, Carroll High School has wasted a large amount of water, whether it's been running during school hours or 24 hours a day. This is a problem, and all the right people have been told. Yet why has it still not been fixed?
The Charger Online staff will be researching the problem and will update this story with answers as soon as possible.