Marching toward Victory
Charger Pride scores highest ever placing at state band tournament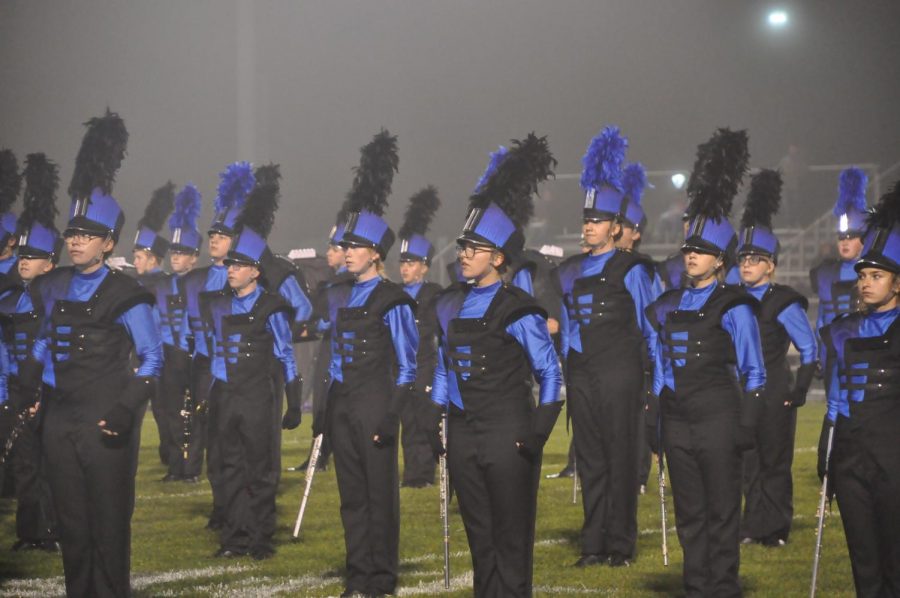 They can be heard from yards away, there dedication and passion to what they do is unimaginable. Who are they? The one and only Carroll High School Charger Pride marching band, which has been a staple of the school for numerous years, but what exactly are they all about?
With practices starting late June and stretching all the way to early November and lasting anywhere from 3 to 8 hours a day, does a person have to be crazy to be in this group? The answer to that question is yes, the members of the marching band are crazy, crazy dedicated to what they do.
The Schneider triplets just finished up their third year in Charger Pride. Will, Ryan, and Sarah Schneider all play the trumpet in the band and love everything about being a part of the group.
  "The reason I come back too band every year are the people in the group. At the start of the year we are just a group of about 200 people who all have similar passions but by the end of the year we are one big family. It's some amazing how everyone is accepted for who they are, I have made so many friends," Will said.
Charger Pride contains 195 members from grades 9 – 12 each member serving an integral part. Parts include; 128 winds, 33 color guard members, 30 percussionists, and 4 drum majors. The group is directed by Doug Hassel and Phil Frazier, their season has just come to a recording-breaking conclusion at state. Charger Pride placed eight — the highest ever in school history. This year's show was titled "In the Glass" and features four songs all incorporating this theme.
 "I think this year had an attitude of hard work and discipline. At the start of camp Mr. Hassel was expecting a lot asking for a good junk done by the end of the first week. No one in the group thought we could pull that off but we did. Throughout this whole season we thought through weather, work, school and other obligations, it taught us all to face our problems head on." said Ryan Schneider.
Charger Pride may be a large group with almost 200 members, but the group still manages to have a close connection and feel like a big family. Tears were shed at state both from audience members touched by the band's performance as well as tears from the members themselves.
"There were multiple times when things got emotional this year. Coming into marching band can be an intimidating thing but soon you learn the people around you are family and its tough to realize that eventually that family will go away. I only have one year left but the thing I've learned is the relationships you build and experiences you gain make it all worth it," Ryan said.
The band last year had a successful year as well and they didn't think they could top it, but in fact they did, and it seems like each year the band keeps getting better and better. In the past five years alone, the band has been finalists at state four of those years. It seems the marching band at Carroll is quickly becoming a force to be reckoned with.
 "We have been lucky enough to go to state every year we've been in the group so far, and I think we came out of this season the best charger pride has ever been but we still have so much to give. I can't wait until next season to see what we can bring to the table," Sarah said.
As another successful marching band season ends, the future looks bright for Charger Pride. For the time being the countless hours and hard work get a pause while our Chargers rest from the countless hours put into this year's show. One thing that will never go away is the memories and friendships made from this 195-member family.
"Some advice I would give to incoming member of the marching band is to keep an open mind. Maybe marching band will be your thing, or maybe it won't be. But I highly encourage it. It's such a welcoming activity and you meet so many new people and make so many memories that you'll never forget," Sarah said.