Normal senior year upended
I made a promise to myself at the beginning of the semester to choose positivity. To wake up every morning and make a list of reasons why "today is a good day" every day.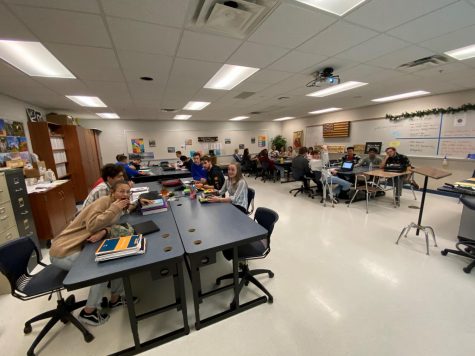 March 13 was the first day I struggled with that.
I denied the Coronavirus outbreak until the beginning of the week, feeling that it was blown out of proportion, that people were making it a bigger deal than it really was. I seemed like a jerk, but honestly, I was just scared.
Not scared that I will get the virus, I wash my hands and phone regularly, I use hand sanitizer, I pray to God. But scared that it was going to uproot my entire life in the last few months of "normal" that I will have; that I was never going to be able to give Carroll High School a proper good-bye.
March 13 was the worst day I've had this semester. I'm not alone when I say that I couldn't escape the virus. No one in Allen County has it yet, but mentions of the "coronavirus" and "COVID-19" made their way into every conversation I had. Comments like "See you in a month" or "have a great summer" or "I can't believe today is the last day" spread faster than the virus.
When I got to my internship, the lady who sits next to me asked how I was doing (like she does every day) and I lost it. Broke down in tears immediately. She was the first person I really told how I was feeling, that I was sick of hearing about the virus, that I wanted normal back, that I wanted my life back.
She listened to me. She didn't try to compare this to her life, but she listened and gave me advice, telling me that there was still hope. Things are slowly beginning to plateau. And she told me that it was okay to cry, it was okay to get upset, it was okay to worry that everything was changing too fast.
I've heard for the last few days that "this may be cool" or "we're living in history" trying to get me to be positive, but I can't. Everyone keeps listing off their theories of how long we'll be closed and none of them end with the 28 days.
I don't know if people think this is fun or it's cool that we won't be in school for a month, but it's real. And it's going to really affect people's health: physical, emotional, social and mental.
In a few months, for the seniors in this school, everything will change. Our lives will literally do a 180 as we leave our families, move off to college and try to get used to a new life. We deserve our normal. We deserve a full senior year.
I don't want this to be the end. I want the Washington D.C. trip I've been planning for years. I want Champions Together track season. I want to take AP exams. I want to wear my prom dress. I want my parents, sisters and grandparents to see me walk across the Coliseum stage in June to get my diploma.
I want the mundane of my normal, every day life.
Until we get back, catch me washing my hands, praying and listing why "today is a good day" to the best of my ability.