The best stadium in the state just got better. No, really it did.
These past couple of weeks have seen a lot of moving and shaking with the addition of a 32-by-16 feet jumbotron out at the stadium, which is one of the biggest if not the biggest one in the state (Mishawaka is right there also) and a pair of Daktronics jumbotrons in the field house. 
The total cost of the board and new stream equipment is very close to $800,000.  The School board is considering them an investment into the kids that will be running it and the experience that comes with that. Athletic Director Dan Ginder believes that people will be flocking to have an ad spot on the board. The Charger Sports Network will eventually be in control of the boards as well as the already-established live stream. 
The board at the football stadium compliments the already state-of-the-art facilities that were built three years ago.  The football team hasn't lost at home since 2021 vs Westfield.  The jumbotron is expected to bring another element of excitement to the game according to Athletic Director Dan Ginder.
"We want people to be more involved in the overall experience of the game and we hope the board helps," he said.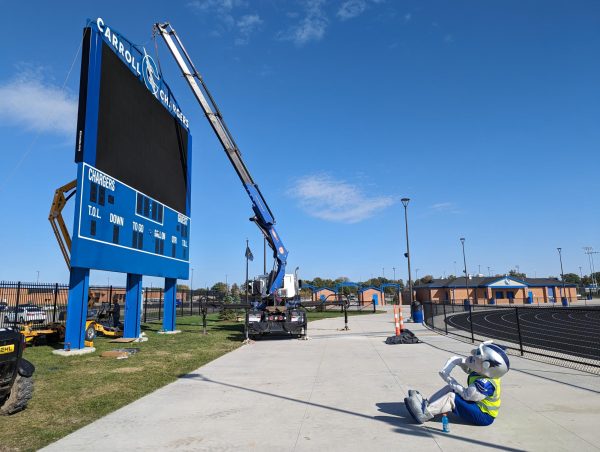 Moving to the Fieldhouse which has two boards back to back in place of the old analog ones. 
Junior Color Commentator Carson Beeman said, "It's exciting. Who doesn't want to have a jumbotron in their gym?"
With the new board, the possibilities are endless and extremely exciting for everyone involved.  
Getting project things on the board will provide an opportunity for the work of students to be shown more clearly in the form of sports graphics and scoreboards. This can massively improve the fan experience and the experience of those operating the boards. This is one the biggest projects in the school and has the potential to be excellent, for the time being, it will just take a little time to get there.