Bus driver Beers: the one and only
Despite initially not wanting the job, bus driver Matt Beers brings his everlasting humor and clever remarks daily to Bus 19.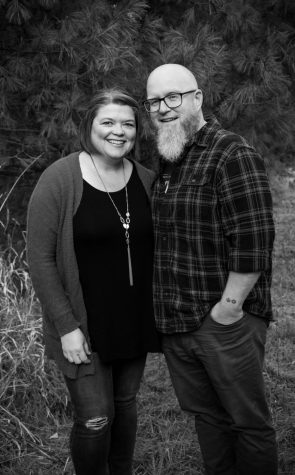 Before he began driving buses, he operated a home daycare with his wife for 12 years. Because of this, he was sure he didn't want to deal with any more kids. His wife suggested he become a bus driver, which he was not interested in at all, because that meant kids and likely annoyances galore.
"But my wife is smarter than I am and I was unable to form a sufficient argument against driving a bus, and now here we are," said Beers.
According to Director of Transportation Natalie Hoffman, the training process for bus drivers takes four to six weeks for drivers to get a Class B CDL, along with a School Bus and Passenger endorsement.
"The training process … can be rather cumbersome," said Hoffman. "However, those of us who went through it know that it's worth the effort to have a rewarding career as a bus driver."
Although the career choice came out of left field, Beers soon came to enjoy the job. He seemed to be a perfect fit, too, for being both a driver and a trainer.
"He's patient, engaging, and has a very unique sense of humor," said Hoffman. "Matt can take something very complicated and present it in a fun way that feels less overbearing, which makes him an amazing trainer. Those same qualities are what make him a fantastic bus driver."
Students' lives are often messy and chaotic, but Beers cares for and connects with those on his bus, whether it be through punchy jokes said over the intercom or conversations about the problems students face in their lives.
"The kids I've met are so funny and lovable and insightful," said Beers. "They make it easy to come to work every day. I genuinely treasure the relationships I've formed with them."
Hoffman echoes this sentiment. Driving school buses means seeing and talking to students daily, often for a year or more. It also means having to say goodbye to those same students on a relatively regular basis.
"Year after year, we get to watch you grow up and become the amazing humans you were destined to be," said Hoffman. "It's a sad day for us when you get your driver's license."
Hoffman requested for a sad face to be inserted in this article if possible. Therefore, :(. Beers would agree.
"I'm not typically an emotional person, but this job has made me an emotional person," said Beers. "The brevity of my encounters and the temporary nature of my relationships with passengers has opened my eyes to just how short our time is and how important those brief moments are."
Of course, even with all the mushy stuff, Bus 19 remains quite the fun place, since Beers loves quite a bit of silliness.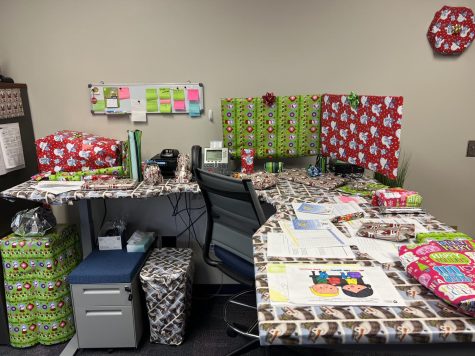 Hoffman recalled an anecdote from Thanksgiving in 2022, when she went on vacation to Mexico. Beers, ever the Christmas lover—with over 20 Christmas trees in his arsenal, by the way—decided to gift-wrap Hoffman's entire office, from her computer monitors to her hand lotion.
"He's a madman," said Hoffman.
Beers claimed he felt sad that she was missing out on the festivities, though he later realized that perhaps the vacation had festivities of its own.
"All things considered, I have no regrets," said Beers.
Additionally, Senior Elena Cornelson brought up a story from during a bus ride, in which Bus 19 riders witnessed another bus clipping a parked car. Beers winced and laughed at the situation, making it all the more riveting.
"Hearing his commentary and reactions was the funniest thing in the world," said Cornelson.
Cornelson often listens to music when she rides the bus, but she has talked to Beers a good amount as well.
"I think he is a very sweet, genuine, and funny guy," said Cornelson. "Just hearing him talk about his life experiences and whatnot is really entertaining."
Beers' wit shows through his daily interactions with his students, and he uses that same wit to write fiction. He has written a few novels, consisting of his comedic fantasy Whithersoever series, and his solo coming-of-age story, The Bloodpines. Each book has distinct characters and the occasional bloody scene (though The Bloodpines, fittingly, has more).
"I'm always writing, but it's currently all inside my head," said Beers. "Eventually my head will get so full that the words will spill out and if I don't have a piece of paper there to catch them, they'll be lost forever. Best case scenario: the process might result in a mediocre novel."
Other than writing, he also runs a YouTube channel called Origami Snowman. He mostly uploads Minecraft videos, but there is the occasional YouTube Short with other activities. He also reads, does jigsaw puzzles, and fills out medical forms every so often.
"I'm an old man and I enjoy old man pastimes," said Beers. 
Beers almost always has a tale to tell, whether it be from his own life, from past students, or from a plethora of media that he enjoys. All in all, he loves being a bus driver, more so than any of his past jobs. He aims to give students a fun, accepting environment on his bus, in which they can express their thoughts and not get talked down to.
"I've learned so much about myself and about how to love others, about celebrating those weird, little things that make us all amazing in our own ways," said Beers. "It really is incredible how much we can grow when we stop trying to force ourselves into the wrong-shaped box and start accepting who we are."
Leave a Comment
About the Contributor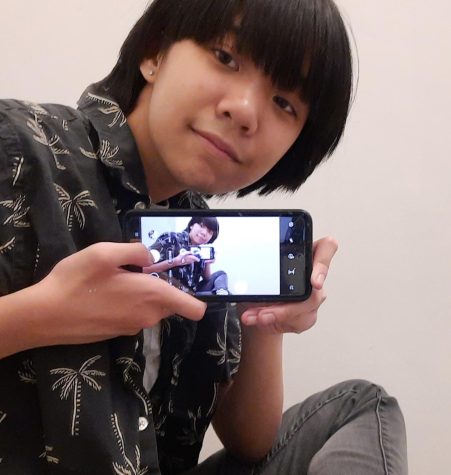 Shep Pablo, Staff Reporter
Shep Pablo is a junior with a love for art, writing, and vocaloid. They're in the house like carpet, and they think history is fascinating. Shep's favorite...