Andy Newman pursues dreams through activities
Who's that guy on Studio 415 who sounds like a professional sports broadcaster with unwavering positivity? Who's that guy who strides down the hallways spreading 'hi's' like confetti? 
Junior Andy Newman is involved in many activities. From radio-television to student council to director of football operations, Andy is involved in it all.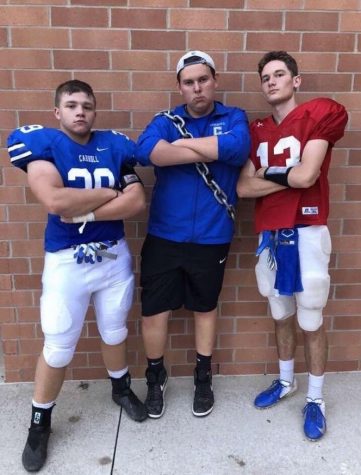 "Andy is very committed to everything he does. Whether it is football or track, studio 415, or his friendships, he's very committed to those and doesn't like to get away from things quickly," said Junior Daniel Reicke, a close friend of Andy.
For Andy, the idea of being a sports broadcaster has piqued his interest since middle school. Driven by this aspiration, Andy began pursuing broadcasting activities through the student-led Studio 415.  
"I really enjoy working in that class environment and Mr. Johnston is definitely one of the people that just made me know that this was one of the things I really wanted to do," Andy said.  
Though sports broadcasting is still a career interest of Andy's, he more recently recognized a desire to explore other possibilities. 
"Sports broadcasting was definitely one idea," Andy said. "Being a sports manager, lawyer, principal or even a sports agent would also be super fun."
One day during freshman year when Andy was participating in track and field, he began talking with Junior Cade Dinan, the football coach's son. Cade was telling Andy about football managing. 
"I basically walked out of track and field that day and Coach Dinan was standing there and said, 'So you're going to be the football manager right?'" said Andy. 
To Andy, this opened other possibilities for future career ideas but also gave him an opportunity to interact with the team and provide assistance. 
"I was like, 'I just heard about this but you know what, sure I'm in,'" said Andy. "It's kind of blossomed from there." 
Andy's personality is one that spreads positivity all throughout the school. Whether it's talking to people he may not know or making people laugh, Andy leaves a positive impact at the school. 
"He doesn't really care what other people think, he just does whatever," said friend Logan Swain. "He is just an outgoing person."
Although talking to new people may feel intimidating, Andy takes a different approach. Even if Andy doesn't know the person talking to him, he makes conversation by asking "what's up man?" 
"He is willing to be friends with anybody," said Daniel. "Don't be afraid to talk to Andy." 
With as much charisma as Andy has, Daniel realizes that some people may be afraid to talk to Andy, but emphasizes that with such an outgoing personality comes a welcoming friend. 
"Sometimes people are afraid to talk to Andy because he's like this big guy walking through the hallway and you're like ah I've seen that guy in studio 415 and I don't know if I can talk to him," said Daniel. "But Andy is really personable and he likes to talk to as many people as he can."