Substitute shines until new theater teacher is found
If you walk through the music hallway, you will find an empty and almost unrecognizable theater room. This is the result of former theater director, Steve Pearson, leaving Carroll High School just before the school year had begun. While looking for a new theater director, a temporary substitute swept in, if not for a temporary amount of time.
Gavin Drew has been substituting for the theater curriculum since the beginning of this school year, and he could not be more excited to step in. Although some people may think Mr. Drew is just a random substitute teacher, this is not his first rodeo with theater.
Drew is the artistic director of Summit City Music Theatre, an organization that holds high-quality, riveting shows such as The Addams Family and The 25th Annual Putnam County Spelling Bee. Drew is proud of the work that has been produced over the years, and only wants to grow more.
"I went to Oklahoma City University for Musical Theatre and directing and have had a really great directing and acting career at regional theatres and on film around the country," Drew said. "I am excited to be back in Fort Wayne and creating more theatre with my company, Summit City Music Theatre."
Drew got the opportunity to teach at Carroll and ran with it. After Pearson's resignation, a spot needed filled for a new teacher.
"I've subbed at Carroll and Maple Creek some in the past year. I'm the Artistic Director for Summit City Music Theatre in town, and I teach at Fort Wayne Youtheatre," Drew said. "When I saw the position pop up for a long term sub for Drama, I knew it would be a perfect fit!"
Drew quickly became a lovable teacher over his few weeks teaching theatre classes, however, the school has found a permanent teacher to take over.
"The new theatre teacher is the wonderful Mrs. Grillo! She has done a lot of performing locally, at Arena Dinner Theatre and the Fort Wayne Civic Theatre," Drew said. "Mrs. Grillo is fantastic on and off the stage and I can't wait for the students to meet her."
Mrs. Grillo will not only teach all the theatre classes, but also have a hand in the fall musical, Oklahoma this November. Grillo has just finished her first week here at Carroll, and on behalf of the Charger Online, we wish her the best of luck!
Leave a Comment
About the Contributor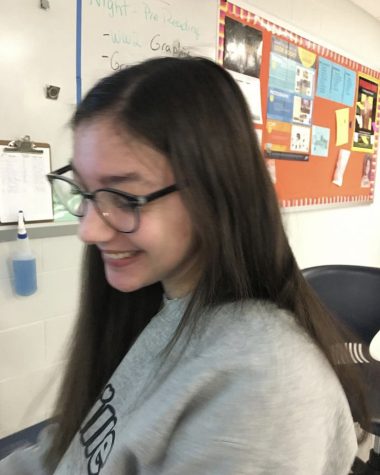 Hanna Fox, Senior Editor in Chief
Hanna Fox is the Editor in Chief at Carroll joining for her senior year with the Charger Online Newspaper. She likes the colors yellow and brown, smiley...